CENTRIC presence at the ETSI Research Conference in Sophia-Antipolis, France, 6th and 8th of February 2023
🕒
2
mins
The project CENTRIC was represented at the ETSI Research Conference by Technical Project Manager (TPM) Carles Navarro Manchón, from Aalborg University, ETSI premises held in Sophia-Antipolis, France, between the 6th and 8th of February 2023.
Dr Carles Navarro Manchón,
from Aalborg University
The purpose of the conference was to bring together the research community with industry representatives and standardization experts to discuss future technology research and links to standardization developments. The timing of the conference coincided with the Smart Networks and Services Joint Undertaking (SNS-JU) launch of its first phase of 5G and 6G research projects at the beginning of 2023, hence providing an excellent platform for many of the new projects to present their plans and exchange views with standards experts on future standardization roadmaps.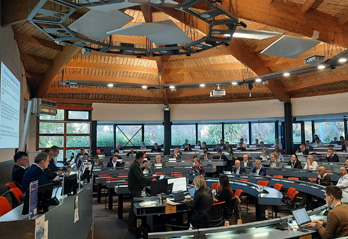 During the conference, guidance to researchers on how to facilitate the integration of their research outcomes into commercial system standards was provided. It was emphasized that early involvement with standardization bodies even in the pre-standardization phase of 6G was key to streamline such a process. Multiple tips and tools to tailor project outcomes to standardization were provided, as well as sharing of success stories from previous research projects and programmes.
Furthermore, most of the granted projects in Phase 1 of the SNS-JU had a chance to present their research and standardization plans for the coming 3 years, delineating and overview of the most popular research trends to be expected in the near future. Topics such as the integration of non-terrestrial networks in 5G and 6G, the exploitation of sub-THz and THz frequency spectrum, security aspects and, of course, artificial intelligence (AI) were clearly dominant among the granted projects.
The CENTRIC project and its standardization plans were presented by CENTRIC's TPM in the morning of the 8th of February, in a session together with the following Stream B projects: 6G-TANDEM, 6G-NTN, 6G-SHINE, ETHER, SPERIOT, TERRAMETA and TIMES. During the session, Carles outlined the technological outcomes from CENTRIC that are expected to impact standardization, such as:
The design of signalling and interfaces to enable AI training and monitoring,
the development of testing and validation frameworks for AI-based wireless networks components,
the definition and evaluation of baseline AI-based algorithms (e.g., for CSI enhancement, beam management, etc.),
in the short term, CENTRIC will primarily target 5G-Advanced standardization of Rel. 18 at 3GPP, where the introduction of AI in the air interface is currently being studied. On a longer term basis, the project will focus on pre-standardization activities for 6G, such as participation in ETSI Industry Specification Groups, where some of the CENTRIC partners are already highly active.
Visit the ETSI Conference site about the event here